Encompassed Creations
(US Training Center)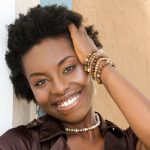 WAR, Int'l staff met Monique during an outreach in the bars of Grand Rapids. Hearing her story, we offered her alternative employment—and the very next day, she showed up at our headquarters. After trying in vain to write a resume for one who had only known the abuse of the red light district, we hired her—and a pilot program was born. Monique began to design and create beautiful jewelry, working with dignity while earning a reference that would help her forge a new future. As the U.S. Training Center grew, so did her skill and experience. Monique eventually found employment in the local community, free and empowered to create a better future for herself and her children.
Become a Circle of Protection