One Dress, One Month, & One Mission
Taking action during trafficking awareness month
When the alarm clock forces your feet to escape their cave of warm blankets, the same old question comes to mind; "What am I going to wear?" Normally the choice is made from a large pile of pants, shirts, and skirts. But many men, women, and children across the globe have no choice at all. From the clothes on their back to their food and their daily work—everything is controlled. According to the US Department of State, an estimated 27 million people live as modern-day slaves. This dark reality, commonly known as "human trafficking," continues to thrive as the third largest criminal enterprise (USDS). But during the month of January, groups and individuals alike will open closed doors, unveiling this hidden evil as a part of Human Trafficking Awareness Month. One individual, Megan Cowley, is raising awareness in her own unique way—by picking out a dress.
The Plain Dress Project
During Human Trafficking Awareness month, Megan, a mother and teacher, will become a voice for the silenced through necklaces, scarves, and bracelets. "I am going to be wearing the same 'Plain Dress' every day and accessorize it with items I have acquired from various organizations that address the issue of human trafficking" said Megan, "Most of my jewelry and scarves are WAR products and near the end of the month we are going to host a WAR product party."
As friends, family, and co-works ask Megan about her repeat dress, she will pass out a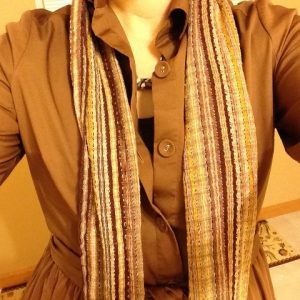 small card with information and organizations, like Women At Risk, who address the global issue of human trafficking. "I am hoping that people will be moved from apathy to
awareness and then action. If I am able to generate awareness I will feel like that is a seed planted…" Such seeds have the power to challenge our daily living, call communities to action, and even offer rescue to the at-risk. Megan herself first became aware of human trafficking while watching a movie. When she later heard Becky McDonald speak at a conference, that seed became something powerful and life-changing.
Your January Mission
During this month WAR, Int'l wants you to clothe those at-risk in dignity and worth, planting your own powerful seeds. Whether you are a doctor, teacher, parent, runner, or other, there is always a way to take action against injustice. "I believe that I can engage people in these relationships—to have conversations, to build awareness, to pray, and to support organizations at local, national, and global levels, both financially and through volunteer service" stated Megan, in the hopes that many others will join her in this mission.
During Human Trafficking Awareness Month only, you and a friend can each host a product party and receive a US Training Center necklace as our thanks to you. Or commit this month's coffee funds to a necklace at the WARChest Boutique, to a WAR, Int'l partner, or even to the US Training Center right at WAR Headquarters, where your donation will be doubled. You can also follow Megan's journey on Instagram @megancowley1 or by following #plaindressproject.
Let us know if you create your own project for Human Trafficking Awareness Month! We want to see how you're taking action against Human Trafficking in January and beyond!
Become a Circle of Protection