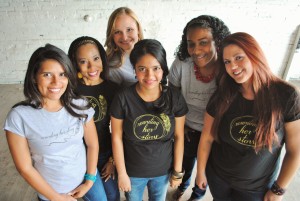 Women At Risk, International is passionate about change—about bringing hope to the broken, freedom to the oppressed, and dignity to the downtrodden. There is no greater joy for us than to see women's lives transformed and their stories rewritten. Rejoice with us in these stories of freedom, hope, and lives made new.
LIU BAO, CHINA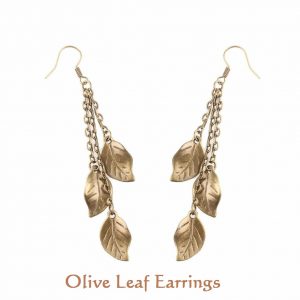 Teams of women walk through the red light districts of China offering words of kindness, encouragement, and hope to sex workers. They return time and again, building relationships with the women they meet. Knowing that most of these women did not choose the lives they are living, the outreach teams offer them a chance to start again. Through the outreach teams' program, women are able to leave the streets and find safe shelter, counseling, and medical care. They also receive vocational training and employment in the outreach's jewelry-making venture.
Liu Bao is one of these women. First trafficked when she was fourteen by a "boyfriend" who turned out to be a pimp, she later escaped and went back to her family—only to find herself trafficked again at the age of nineteen. After a year in China's red light districts, she met several women from the outreach team. She left the streets and entered their program, run by a partner of WAR, Int'l, where she received trauma counseling as well as medical care and counseling for an eating disorder. Through much counseling and mentoring, she began to develop a healthy self-image and eating habits.
From the beginning, program staff recognized Liu Bao's talent for computers and administration. Almost immediately, they offered her computer training and courses in administration and business English. As she began to heal from her past, Liu Bao found herself thriving in her courses. Just one year after leaving the streets, Liu Bao became an Administrative Assistant for the outreach program and is daily managing their jewelry stock, shipping, and consignment accounts.
As she thrives in her present circumstances and looks to a changed future, Liu Bao is no longer chained to her past. From the abuse and trauma of the red light district to the comfort and dignity of her office, Liu Bao's story has been rewritten.
DAMARA AND RUTH, UGANDA
Holding back sobs, she made her way up to the platform, hoping for a chance to speak to the man from WAR, Int'l who had come to visit her village. Seeing her eagerness, the man stepped over and took her hands, and she could no longer control the sobbing that poured forth. "Thank you," she told him over and over. "Thank you that I can go to college." As her tears subsided, she told him her story—or rather, her mother's story.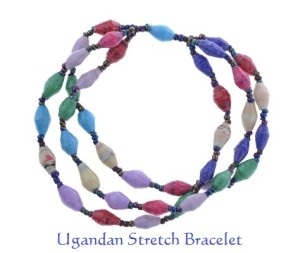 When Damara's father died of AIDS, his family kicked her HIV-positive mother out of their family home and farmed Damara and her siblings out to other families. Damara's mother, Ruth, found her way to a partnering program of WAR, Int'l which employs AIDS widows and HIV-positive women to craft jewelry out of recycled magazine pages. The jewelry-making venture had just begun, and Ruth became one of their first artisans. Her skill blossomed, and she was soon making enough money not just to support herself, but to put away for the future. She saved enough to buy land and build a house, and then set about getting her children back. With a steady income, she was able to send all of her children to school, and Damara was now graduating from college—something that a decade ago, neither she nor her mother would have ever thought possible.
Ruth's story doesn't end there. Spurred by her success in jewelry-making, she began growing mushrooms and popcorn, both high-demand and profitable commodities. She built more buildings and barns to accommodate her businesses. "And the food you ate today," Damara revealed with a wide smile, "was made by my mother's new catering business." She couldn't hold back the tears that flowed once more as she caught her mother's attention in the crowd and motioned for her to come and meet this man whose organization had helped to change their lives.
And how great is that change! Once desolate and abandoned, Ruth now has more than enough to meet her needs and those of her children and is now pouring back into their community. A fresh start making simple but beautiful jewelry has led to the rewriting of her story and her children's stories.
DAUGHTERS OF THE KING, DOMINICAN REPUBLIC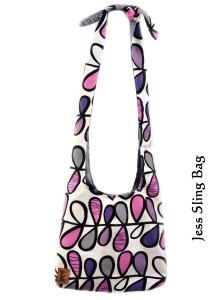 The chatter of excited girls rises above the clatter of forks and the clinking of glasses. The girls, students at an academy run by a new partner of WAR, Int'l in Central America, are clearly enjoying their etiquette classes. Their enthusiasm is bolstered by anticipation of a special dinner out at the conclusion of the classes. Such a treat!
Nearby, their mothers and other village women work handcrafting purses and bags. They are grateful for the income they earn this way and even more grateful for the education and nurture their daughters receive at the school. There, they learn not just academics, but skills like gardening, cooking, art, and most recently, table etiquette. The conversation among the women turns to the upcoming dinner—the food the girls anticipate eating and the new dresses they will wear. Lately, the girls have talked of nothing else.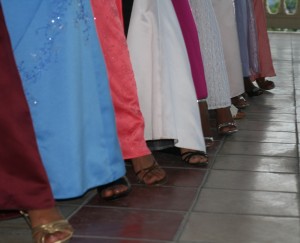 Joining them for this dinner will be a friend of the Academy, Ana, along with her special guests. The girls love spending time with Ana, who has been talking with them about who they are. And who are they? They are more than poor children from poor families, more than trafficking survivors, more than the sum of their pasts and their circumstances. They are beautiful, lovely, and restored. They are chosen, beloved, daughters of The King. They are Princesses! It is hard for them to wrap their minds around this, yet they are coming to believe it.
Never is this more apparent to their teachers and mentors than when they overhear the girls talking as they model their new dresses after class. They primp in front of the mirrors and twirl around the room, skirts flowing. "Look at us," they whisper to each other. "We are people now."
Princesses. Daughters of the King. Change worn both outside and in. Stories rewritten. This is the goal of Women At Risk, International. This is why we are here.
Become a Circle of Protection