My Shopping Habits Were Changed Forever
Author: Rebecca McDonald, Founder & President
August 2022
---
My experiences of rescuing survivors of horrific abuse and teaching them to work with dignity by making artisanal products changed my shopping habits forever.
I was never one to buy shoes, purses, or jewelry. Then I started creating programs for survivors on a global scale and realized they needed a sustainable source of income. I told God, "If I'm going to have to sell something, it has to be beautiful!"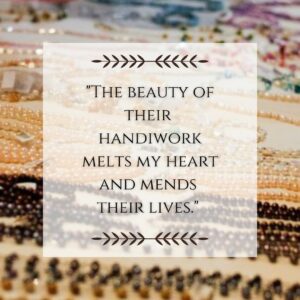 And so it began. WAR, Int'l started selling handcrafted jewelry and accessories made by rescued and at-risk women (and even men) from around the world. Now, I'm a walking mannequin for WAR!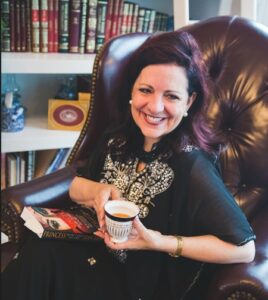 Besides, the day I don't dress up is the day I will be asked for an interview or meet with a person of influence, and I want to take every opportunity to show off the work of our artisans' hands! Today, the WAR Chest Boutique has over 7000 unique gifts handcrafted by or sold in support of rescued and at-risk individuals.
The stories of the survivors we support are the heartbeat of our mission, and every product comes with a story card allowing you to read personal stories of men, women, and children who have passed through our programs. Whether they're made in a preventative or a restorative program, our artisans craft fair trade items within a safe environment where they receive wraparound services designed to rescue, restore, and empower them to live with dignity and purpose.

Shopping with a purpose proves how my meager purchases have the power to change a life forever. Another non-profit that rescues survivors and sells handmade candles as we do says, "A single candle cuts through the darkest night." Decades of experience have taught me the truth of Dr. Martin Luther King's statement, "Darkness does not drive out darkness, only light can do that." Our goal is to shed light on a dark subject and give hope and healing to those who seek safety beneath the shelter of our wings.
When you buy a product from the WAR Chest Boutique, you're truly a fellow soldier in the fight to set the captives free. You literally jump in the trenches with us lifting the lives of those once trafficked and exploited to jobs with worth and dignity.
I can't shop at Walmart or JCPenney anymore! I struggle shopping at the dollar store. I don't know who made their products, their working conditions, if they're being paid fairly, how they are being cared for, how old they are, or even if they're free to choose differently. My eyes have been opened.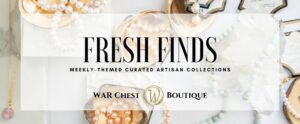 Every Friday, just for you, we curate a collection of specialty gifts from the WAR Chest Boutique. It is a treasure chest, if you will, of unique and beautiful handcrafted items – like ​jewelry, scarves, accessories, and more – to provide you with moments of opportunity.
-The opportunity to add fresh style to your home and attire.
-The opportunity to equip and empower survivors.
-The opportunity to give a hand up for those at risk to live in freedom.
Please take a moment to shop with a purpose at the WAR Chest Boutique!
Browse this week's collection at Fresh Finds!
Become a Circle of Protection