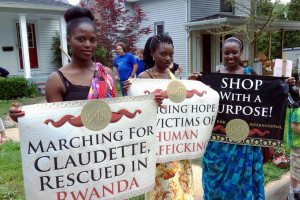 Summer blesses us with a renewed sense of freedom. We dust off our shorts and flip flops, swing open the prison doors of home, and venture into the warm sunlight to eat barbecue, go swimming, and dangle marshmallows over roaring bonfires. For many of us, this time of year is filled with life, joy, and memory-making.
Yet the season can be a challenge for rescued women and children. During Christmas, hordes of shoppers stream into WAR Chest Boutique to purchase products. In February, boyfriends, husbands, and fiancés scramble to find their significant others the perfect Valentine's Day gift. Children pool their money together in May to buy their mom a pretty piece of jewelry for Mother's Day. But after that, a lull in sales strikes, and life gets a bit trickier for women and children in our safehouses.
But you can make a difference in their lives this season: encourage your community to shop with a purpose by rallying in your local Fourth of July parade! Whether you belong to a group like Boy Scouts, or whether you simply have a passion for empowerment, you can take part.
Don't know where to start? Here are some steps and ideas to get you going!
Snag a spot. Complete an application to participate. To do this, contact the Parade Association or your city's Chamber of Commerce. Parade spots often fill up fast, so sign up today!
Find your people. Grab your friends, family, church, neighbors, or anyone else you can find to join you on the March for Freedom!
Make a scene. Stroll down your streets with WAR, Int'l banners and signs lifted high. Sit in style on a fancy float adorned with red, gold, and black trim. Sing, dance, shout, play an instrument, make some noise. Your march can be as simple or elaborate as you want; no matter what you do, your presence will raise awareness and stir the audience to take action!
Let us help you. WAR, Int'l can provide you with materials to make your march awesome. Email us at volunteer@warinternational.org to receive printable images for signs and banners. If your local parade will allow it, shoot us another email for coupons and pass them out at the event.
Become a model. Adorn yourself with jewelry, clothing, purses, and more from WAR Chest Boutique. You'll support a woman with your purchase, as well as advertise the beautiful products they make.
Embrace other cultures. Check out the different countries that WAR, Int'l supports and don the clothes that they might wear during festivals and special events. Declare that freedom and justice is for all—no matter where they live or work!
Don't forget to snap some pictures! We'll post them on our website for all to see.
Have any other brilliant ideas? Let us know at volunteer@warinternational.org.
If you'd like to know more, call our office to receive an informational packet about this great opportunity. Parades can be a powerful mechanism for change, and on a day when we already celebrate our country's liberty, you can help make freedom a reality for everyone—both nationally and internationally.
Become a Circle of Protection