January 2023: Human Trafficking Awareness Month
For the last few years, January has been named National Slavery and Human Trafficking Prevention Month. January is also known as Human Trafficking Awareness Month.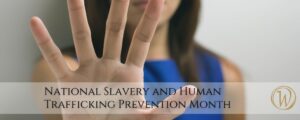 Here at WAR, Int'l, we observe National Slavery and Human Trafficking Prevention Month every month. You see, trafficking doesn't sleep. Oppression reigns around the world, where the innocence of another is stolen every 30 seconds. For many years, we've been asking ourselves this question: How many is too many? We believe that answer is one.
More than ever, we deeply desire our communities to rise up against injustice. We're asking you to come out of your comfort zone to bring hope to the hopeless; to be a voice to the voiceless.
We want to give you a few suggestions on how to join the movement this January:
Give up your weekly Starbucks. #IKR?! Many of us absolutely love our coffee. But, have you ever considered giving what you would have spent on coffee to an organization fighting human trafficking? The reality is that children as young as five years old are harvesting coffee beans on plantations all around the world for little to no pay. This is what we call labor trafficking. We invite you to give up coffee for the rest of January and donate your savings to Women At Risk, Int'l. If you're interested in this opportunity, please click here.
Pledge to tell five of your friends about the dangers of human trafficking. In any of its forms, trafficking easily engrains itself into our communities. Share this issue with those closest to you to raise awareness!
Pray. We know that sounds so simple, but prayer is the only way we will end human trafficking. Think about it: We can fundraise and we can build safehouses, but if there's no heart-change, we've done very little to break the cycle.
If you are interested in sounding a battle cry with us this month to rescue those trapped in the bondage of slavery, we invite you to visit our Get Involved page here. We have practical tools to help you take your first (or next) steps in ending human trafficking.
Please join us in this fight, and know that while one month may bring light to this tragedy, at-risk women and men all over the world suffer, sometimes for years, before rescue. What can you give up this month to bless a person in need? Through your time, talent and treasure, we can fight exploitation together.
While it breaks our hearts that we even need a month here in the United States to recognize that trafficking exists, we understand the importance of raising awareness, and we applaud our government for declaring this month one for reflection and justice.
Join us today and spread the word this month!
Become a Circle of Protection