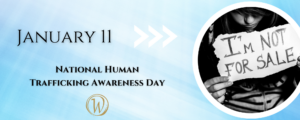 January 11, 2023
---
(Note: This article includes Stories of Healing.)
There are many reports and statistics available regarding the number of human trafficking victims.
→ In 2021, 10,359 human trafficking situations involving 16,554 individual victims were reported to the U.S. National Human Trafficking Hotline. (source)
→ 49.6 million people were living in modern slavery in 2021, of which 27.6 million were in forced labor and 22 million in forced marriage. (source)
→ In 2021, the National Center for Missing and Exploited Children received more than 17,200 reports of possible child sex trafficking. (source)
Whereas statistical information and reporting are helpful with understanding the issues as solutions are sought, focusing merely on the numbers can make the victims nameless, simply a number, as it were.
Each and every victim of human trafficking has a name, a voice that has been silenced, as well as a life worth saving, and a story worth telling. This fact makes highlighting stories of rescue and healing vital.
In honor of #HumanTraffickingAwarenessDay2023, here are three such stories.
Erin: healing moment
At a recent Human Trafficking Awareness Conference, the Q&A panel included social workers, law enforcement officers, lawyers, and Erin, a survivor of human trafficking.
When asked how the police had treated her, Erin froze, not wanting to tip the apple cart. Seeing Erin's hesitation, Becky McDonald, founder & president of WAR, Int'l, encouraged her to speak up and share her experience.
Erin shared how the police were not helpful regarding her situation, telling her there wasn't anything they could do for her. One officer even asked for her number.
Upon hearing the apologies from the male law enforcement officers on the panel, Erin had an unexpected response. Those apologies, she realized, healed a place in her heart she didn't know needed healing.
Trauma-informed interviewing is key when assisting survivors. During our February 2022 Light Up Your World Zoom, we learned about this interviewing technique from Amy Allen, a federal law enforcement officer. Click here to view it.
Reena: finding solutions
How many girls had now disappeared from Reena's village? She had watched as foreigners came, promising education or stable jobs to girls of impoverished families. Out of desperation, they had been sent or sold to provide for the rest of the family. But Reena knew these promises were empty.
Reena knew traffickers targeted poor and vulnerable families.
Yet she had a plan. Reena began a small bakery where she could employ at-risk women in her village, giving them the fair payment they needed to provide for their families.
To Reena's delight, the bakery thrived! Now she's running four sustainable micro-enterprises to sponsor a safehouse, counseling services, vocational training, micro-loans, and different classes!
Reena's work is helping attack trafficking at its root cause and freeing hundreds of lives from its threat. Support WAR's micro-enterprise program to be a 'Reena' to others at risk.
Rhoda: story of resilience
Ever since she was a little girl, Rhoda wanted to sing. After much local success, Rhoda thought she caught her big break when a talent agent promised a vocal tour in Japan. Though her first visit proved successful, on her second trip, traffickers took her papers and forced her to serve drinks at a bar. One night a co-worker lured Rhoda to a "dance club" filled with the Japanese mafia. After drugging and abducting her, mafia members repeatedly brutalized and raped Rhoda for three days.
She eventually escaped, but the Japanese police blamed her, and a counselor even advised suicide as the only way to preserve her dignity. Even after returning home to America, help was nowhere to be found.
Finally, Rhoda discovered a community of healing and support at WAR, Int'l. Now she no longer numbs her pain with substance abuse and self-mutilation. Instead, she has transformed her suffering into a story of survival and hope. Rhoda uses her passionate voice to share this story, singing at benefit concerts, speaking out against human trafficking, and whispering words of hope and encouragement to vulnerable teens and wounded women.
Our sweet Rhoda is featured every Monday on our Facebook (WAR, Int'l and WAR Chest Boutique) and Instagram pages (WAR Int'l and WAR Chest Boutique). Make sure to catch her fabulous Monday Minute videos to be encouraged and inspired. Oh, and #ShopToRescue her weekly-updated collection here!
Resources For You:
-Join us on the 4th Monday of the month for our Light Up Your World Zooms to hear directly from survivors as well as experts in the field. Learn more here.
-Shop our Remembrance line which include the names and ages of human trafficking victims. #ShopToRemember here.
-Get inspired and read Stories Of Rescue here.
-Read Understand The Risks.
Call To Action: Time, Talent, Treasure
TIME
– Host a Party or Event!
– Volunteer at Events or WAR HQ
TALENT
– Share your Creative Skills
– Become a Circle of Protection
TREASURE
– Give Through Your Purchases
– Give your sweat, space, or fundraising solutions
---