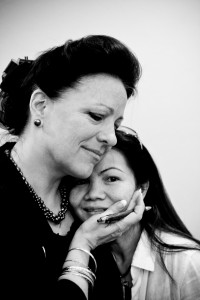 The history of Women At Risk, International (WAR, Int'l) far exceeds the dates of its formal establishment, reaching back into the childhood of founder and president Rebecca McDonald. McDonald's international upbringing first exposed her to the world of risk when a young friend was found wounded, raped, and unable to speak from the acid used to silence her cries. Both McDonald and the victim were only 14 years old at the time. On that day, this one girl's suffering set McDonald on a course of action to become a voice for the voiceless, a defender of the oppressed, and a haven of healing for the hurting.
From this experience WAR, Int'l was officially founded in 2006. At the time, it had representation in 16 states and projects in 14 countries world-wide. By 2007, WAR, Int'l had received its 501c3 status, going on to open its first store, The WAR Chest Boutique, in Rockford, Michigan, the following year. Two years later, a second store opened, this time bringing the world of WAR to Wyoming, Michigan. With continued growth and positive public response, WAR, Int'l was soon pushed across state boundaries, bringing a third store to the Naperville, Illinois, area in 2011. WAR Int'l's most recent development includes purchasing the previously rented Wyoming facilities, creating a permanent space for growth and expansion.
Today, WAR, Int'l is represented in all 50 states and is currently expanding into new countries as additional projects and partnerships are being formed.