A Summer Camp That Could Change Lives
By Bethany Winkel, WAR, Int'l Staff Writer
A bewildered teen, having recently aged out of the orphanage that had been her home, steps off the bus and is approached by a friendly middle-aged woman offering help. Another young woman, seeking respite from the abuse that darkens her home life, falls for the smooth-talking pitch of a man promising a way out. Yet another ventures into the city looking for work and is lured by an irresistible offer of a good job at a high-end hotel abroad.
Seizing what she believes is an opportunity to better herself, each of these young women chases a promise to an overseas destination, unaware that she is walking into the hands of traffickers. By the time she realizes she has been scammed, it is too late—those she trusted have turned on her. Alone and without help in a foreign country, she is locked up, beaten, and forced into sexual servitude with little hope of escape.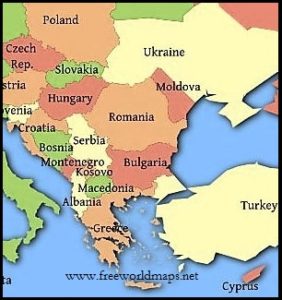 These heart-breaking scenarios play out time and again in a small, poverty-stricken Eastern European country, where dire economic conditions, widespread government corruption, and lax trafficking laws have created a hotbed for Middle East and Eastern European trafficking rings. Preying on vulnerable young women desperate for opportunities, traffickers lure them across borders with promises of jobs and better lives.
"Rebecca," our partner in a neighboring country, has seen far too many of these girls trafficked into her own region and has begun working diligently to stop the tide. Risking her own safety, she has made multiple trips to this nation, seeking to educate young women about trafficking risks. Traveling to schools, group homes, and orphanages, Rebecca educates her teen audiences on the lures commonly used by traffickers in their country and shares the trafficking stories of girls from her own program.
Being present at the trafficking prevention programs may very well have made the difference between their continuing freedom and a future as sex slaves.
The impact on the girls who listen to the presentations has been tremendous. Some have been aware of the presence of traffickers but have not taken the danger seriously. Some have had sisters and friends accept overseas job offers and have never heard from them again. Several have been literally on the verge of accepting overseas job offers, only to realize during the presentation that these offers were really trafficking scams. For these girls, being present at the trafficking prevention programs may very well have made the difference between their continuing freedom and a future as sex slaves.
Having seen the effect of her educational outreaches, Rebecca wants to carry the message to even more young people. With this end in mind, she has arranged a one-week camp this summer for at-risk teens, with the dual goals of providing an enjoyable week of fun and equipping them with tools to avoid trafficking snares.
Along with arranging for group homes and orphanages to send their teens to the camp, Rebecca has also issued invitations to families in rural villages. She and her small army of volunteers are expecting 150 campers! For many of these teens, it will be their first and only exposure to trafficking prevention information. Rebecca and the rest of the camp team are excited for the opportunity to positively influence so many lives with this crucial message.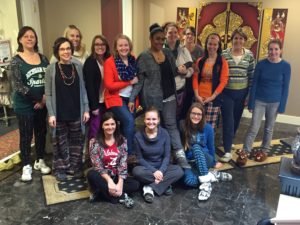 To help raise money to send girls to the camp, WAR, Int'l held a pajama day for employees at Headquarters. Staff paid for the privilege of wearing pj pants, slippers, or both, with all payments and donations going to support this good cause!
While trafficking awareness will be a primary component, the camp will not be all doom and gloom. As with summer camps everywhere, campers will enjoy activities such as arts and crafts, swimming, and games. They'll get a chance to learn dance, music, and sewing, along with brushing up on their English skills. Most importantly, they will experience worship and learn about the God who loves them and cares about their futures.
For these teens, growing up in one of Europe's poorest nations, a week of enrichment and activities like this is a rare treat. For many, it will be their best week of the year; for some, it may be the most important week of their lives.
Rebecca's passion for the girls of this country cannot change the country's economic and political conditions, nor can it change the unfortunate situations in which many of them live. However, her efforts and the efforts of her supporters can make a tremendous difference to their present and future well-being. It is her hope and prayer that the camp will not only be a wonderful respite for these campers but will also change the course of their futures by giving them tools to ensure their continued freedom and safety.
For many, it will be their best week of the year; for some, it may be the most important week of their lives.
WAR, Int'l is pleased to partner with Rebecca in this endeavor and has agreed to sponsor a number of girls to attend the camp. If you would like to be a part of this outreach and make a lasting impact on these teens, we welcome donations of any amount.
Afterword – Fall 2018: The first camp was a great success, as were the second (held in 2017) and third (held this past summer). Rebecca is now preparing for the fourth annual camp, to be held during the summer of 2019. WAR, Int'l has sponsored campers each year and is collecting donations now for next year's camp sponsorships. Please consider partnering with us to help more teens experience this life-changing camp!
Note – Because of the situation in this country, we practice a high degree of confidentiality with this partner. For the safety of our partners and those they serve, we have chosen not to reveal the country where the camp will take place.
Become a Circle of Protection