How is it that November is already upon us? This month kicks off the beginning of the holiday season, and if you're anything like the rest of us, your calendar is filling up fast. That's why we want to notify you ahead of time what opportunities there are to partner with WAR, Int'l in making a difference during this busy time of year.
Whether participating in our Giving Tuesday Campaign, joining in the festivities at a pop-up event, or checking items off your holiday shopping list at WAR Chest Boutique, you are helping us continue our mission of rescue, restoration, and empowerment. We are beyond grateful for your continued encouragement and support.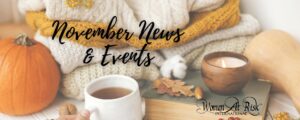 ---
Giving Tuesday: November 29, 2022
The word we have chosen as a theme for Giving Tuesday 2022 is impact.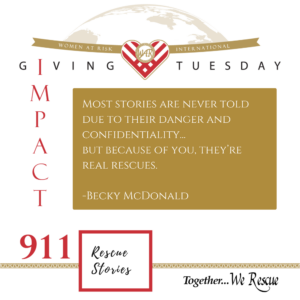 We all want to make a positive impact on the world around us, especially for those in need. We have a goal to raise $40,000 for our 911 Rescue Fund, and your gift empowers immediate rescue and intervention when life-saving action is required. A single act of kindness can make a powerful difference. Together, we can create an impact by giving to rescue, restore, and empower vulnerable lives around the globe.
Learn more about our Giving Tuesday campaign here.
---
In Case you Missed It…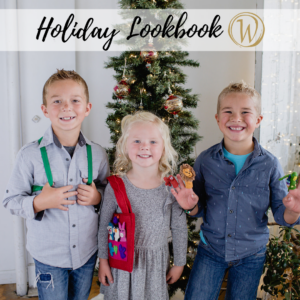 Our A Holiday to Remember lookbook is here! We are delighted to display our beautiful products for you to purchase, share, and enjoy, and it is our hope you find a sense of peace and purpose in shopping our collection of handcrafted gifts this holiday season. We're confident you'll not only discover items your friends and family will love, but you'll also empower the rescued and at risk by purchasing the work of their hands.
Shop our Holiday Lookbook here!
---
Becky at Wheaton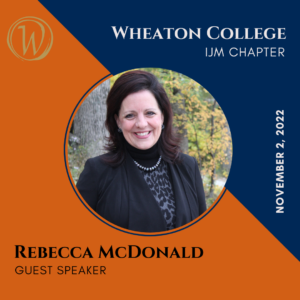 Join Becky as she speaks at the IJM Chapter of Wheaton College on Wednesday, November 2 from 4:00-5:00 pm CT. Come learn about human trafficking and how you can combat this evil in your community. Products made by and in support of rescued and at-risk individuals will also be available for purchase after the event until 7:30 pm. Find additional details here.
---
Joy 99 Live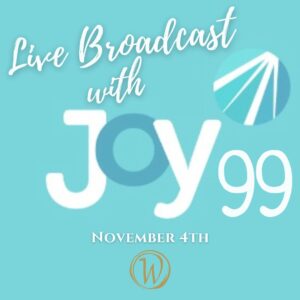 WAR Chest Boutique invites you to join us on Friday, November 4 from 10:00 am-1:00 pm EDT for a live remote radio broadcast with our friends at Joy 99. Come on over and spin the Joy 99 prize wheel and enter our drawing for a chance to score an exclusive gift basket from WAR Chest Boutique! For any in-store purchases of $30 or more, you'll also receive a FREE gift of a Compass Key Ring made in our U.S. Training Center.
Learn more at upcoming events.
---
Holiday Gift Fair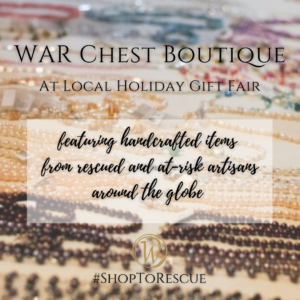 We've been invited to host a pop-up shop of WAR Chest Boutique products at the Lansing Grace Alternative Holiday Gift Fair on Saturday, November 5 from 10:00 am-2:00 pm EDT. If you're in the area, come join the festivities and support WAR, Int'l along with other fair trade merchants. A bake sale and children's activities will also be part of the merriment. More info here.
---
Becky Speaking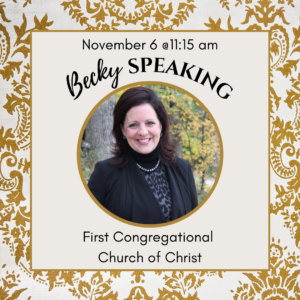 On Sunday, November 6 Becky will be speaking at the 11:15 am service of First Congregational Church of Christ in Angola, IN. You are invited to hear her share about the realities of trafficking in our world today and the work we're accomplishing at WAR, Int'l, particularly in Afghanistan and Ukraine. You will hear stories of rescue and hope and have opportunity to shop products made by rescued and at-risk artisans around the globe.
---
Bombshell Birthday Bash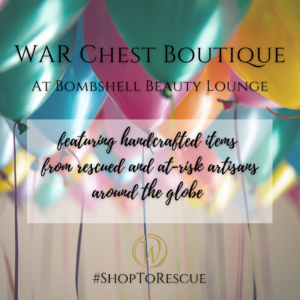 Come kick off the holiday shopping season and stop by our pop-up shop at the Bombshell Beauty Lounge on Saturday, November 19 from 10 am-2 pm. As part of their anniversary celebration, we have been invited to take part in the festivities, and we hope you'll join us! The Bombshell Birthday Bash is a great way to support WAR, Int'l while also having some fun! Find more info here.
---
Light Up Your World – November 28th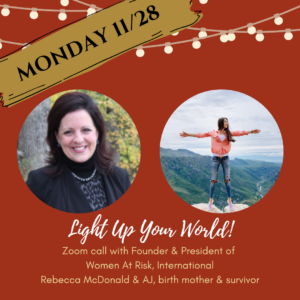 Don't forget to join us for another survivor testimonial on this month's Light Up Your World Zoom call! On Monday, November 28 special guest AJ will once again be joining us to share more about her personal journey of becoming a birth mother and finding healing from trauma and addiction. As she shares, your heart will be deeply touched, and you will find AJ is more than a survivor–she is also a THRIVER who has made it her life's work to empower other survivors as they traverse the path to healing.
Visit our upcoming events page for additional details.
---