WAR, Int'l invites you to stop into the brand new Tea Trade Café for breakfast from 7:00 a.m. to 11:00 a.m. on Sept. 23 to try fair trade coffees and teas. That same day, lunch and dinner will be served. There will be special guest appearances by musicians Grooters & Beal, as well as community leaders and local media personalities.
On Saturday, Sept. 24, brunch will be served from 8:00 a.m. to 1:00 p.m. This family-friendly event will include a free bouncy house, cotton candy, and more. The Wyoming Fire Department will be showing off a fire truck at 11:00 a.m. for children in attendance.
Each purchase at the Tea Trade Café will support at-risk and rescued women all around the world. This café will also serve as a training ground for women who have been rescued from injustices like human trafficking, where barista and business skills will be taught. Serving fair trade coffee and teas, each dining experience will provide sustainable income for artisans all over the world, ensuring they work in safe environments.
The menu is diverse, featuring blended coffee drinks, breakfast foods, soups and salads, Paninis, wraps, croissants, snacks, baked goods, and gluten and vegetarian-friendly options.
Get Involved
WAR, Int'l invites community members of all ages to join us for the Grand Opening of our Tea Trade Café. This family-friendly event will include a bouncy house for children, and even an appearance by a Wyoming Fire Department fire truck. All food served during our opening weekend will be by donation only. Specialty and fountain drinks will be sold at regular café pricing. Regular hours of the café after the Grand Opening will be as follows: Monday-Friday 7:00 a.m. to 6:00 p.m., Saturday 8:00 a.m. to 3:00 p.m., and closed on Sundays.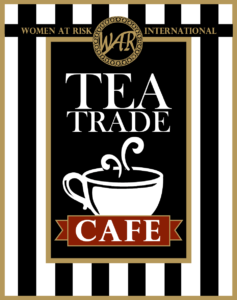 For more information please contact:
Women At Risk, International
Phone: 616.855.0796
info@warinternational.org