The Breezy Winds of March
Bring Fresh Beginnings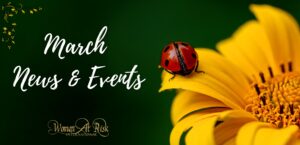 March 2023
---
Hello, WARriors!
As the old saying goes, if March comes in like a lion, it will go out like a lamb! However March 2023 introduces itself, let us hope it leaves us stronger and wiser. It is in this light we view the survivors we are honored to know. The storms they've faced have made them resilient, and their perseverance paves the way for new beginnings.
You too can persevere through the challenges you encounter! As we welcome March and spring forward, remember that the windy gales in your life carry the potential for a fresh start.
Please keep reading to learn more about the latest news and events at WAR Int'l.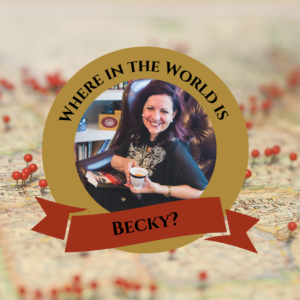 Presidential Travel
March-April: Germany, India, Thailand
Becky McDonald, founder and president of WAR, Int'l, leaves for Germany next week to train U.S. Military in anti-trafficking measures and speak to multiple groups on base. Next, she will be traveling to India and Thailand to meet and encourage our partners. Please pray for wisdom as she seeks to be a blessing.
---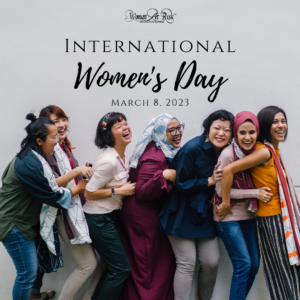 March 8th: International Women's Day
As WAR, Int'l Founder & President Becky McDonald has traveled the world, she has heard of horrific stories of the lack of rights for women and girls, some unrepeatable. She has discovered faith systems where the women are not allowed to take part in ANY part of the worship. They can cook for the men but have NO say in their faith. Women are denied an education, aren't allowed to hold jobs even if they're trained as doctors or lawyers, are not permitted to run a business… the list is endless.
Learn more here.
---
Yes, it bears repeating! Did you know that $300 in product sales sustains an individual in one of our international safehouses for an average of one month?! That is impactful shopping! To help as you #ShopToEmpower, WAR Int'l offers free shipping for online orders of $75 or more!
#ShopToRescue here!

Stay current with Women At Risk, International here.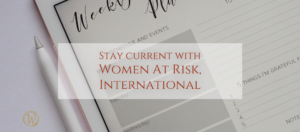 ---
We have been invited to hold a pop-up boutique at The Stray on April 8th from 10a to 3p.
The stories of the survivors we support are the lifeblood and heartbeat of WAR, Int'l. They are the pulse and purpose behind the jewelry you wear. This pop-up boutique is a great way to support WAR, Int'l and empower survivors through the work we do.
Learn more here!
---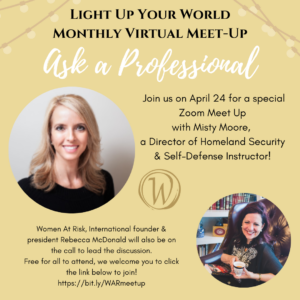 Sneak Peak: April's Light Up Your World Zoom
Our special guest for April is Misty Moore who is Hancock County's Director of Homeland Security and a certified self-defense instructor. Misty is passionate about empowering women with the knowledge and skills to defend themselves against any type of threat. Misty also has experience volunteering as a Security Director at a home for trafficking survivors, and it was her work in this facility that inspired her to begin her own self-defense training company.
Learn more here.

Help us get the word out and subscribe to our YouTube Channel here!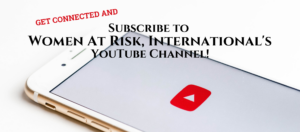 Shop our Lookbook Collection here!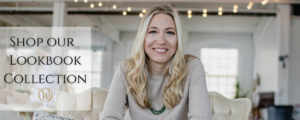 Shop our Set Free Collection here!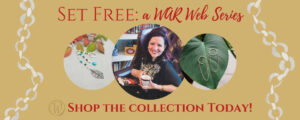 Shop our Fresh Finds Collection here!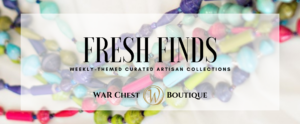 Become a Circle of Protection