August 2022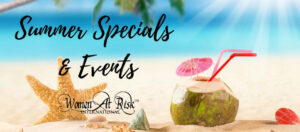 We know you want to make the most of your time so we're here to help you relish the last days of summer with some exciting offers and impactful events! Scroll down to see what's happening with WAR, Int'l in the month of August. We hope you'll join us for one last hurrah before summer comes to a close!
Mystery Box #3 is Live!
If you're anything like the rest of us, you may find yourself standing in front of the mirror and thinking, "I have nothing to wear with this outfit!" If that's you, the simple-trendy-glitzy-everyday vibe of MB#3 is just what you need! This set will sweetly pair with your jeans and t-shirts. As well as subtly glam up that cute summer dress. And go with that office outfit that needs a bit of pep. Handcrafted by at-risk Thai women who are now working with dignity, you contribute to their future and pay it forward with the power of your purchase. Originally valued at $30, this mystery box set is available to you for only $10 while supplies last! Pop on over to warchestboutique.com and grab yours today!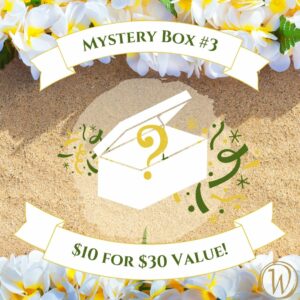 P.S. You can still get in on MB#2 for a few more days! Just specify that you want MB#2 in the special instructions section at checkout. Offer ends August 5th!
10% Off Special
If you haven't booked your summer party yet, now is the time! This is the last month to capitalize on our 10% offer, and you don't want to miss this limited-time opportunity! Link arms with women around the world by scheduling your summer pop-up party today! It can be as simple or elaborate as you choose Get creative and feel free to ask us for ideas on how you can party with a purpose this August!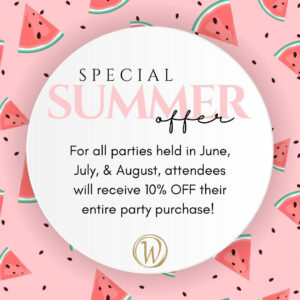 Monday, August 22nd – Light Up Your World
Don't forget to join us this month for our Light Up Your World Zoom call with WAR, Int'l founder and president Rebecca McDonald! In this month's discussion, Becky will be sharing updates on her most recent travels around the globe. Hear about her visits to our partners in Guatemala, Portugal, France, Kenya, and Zambia. Additionally, Becky will also be providing the latest report on WAR's partnerships in both Ukraine and Moldova. Mark your calendars and join us on Monday, August 22, at 7:30 pm EST. Learn more here!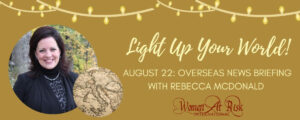 August 6 – WAR, Int'l Course
Want backstage knowledge about WAR, Int'l? Then the WAR, Int'l Course is for you! Led by founder and president Rebecca McDonald, topics include our history and mission, how programs and partners are developed, the handling of products and sales with artisans, specific ways to get involved, and more. The registration deadline is fast approaching, and space is limited so snag your spot today by registering HERE!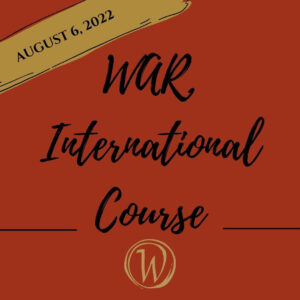 August 10-13 – Unity Festival
WAR, Int'l will be at Unity Fest selling beautiful items handmade by rescued and at-risk individuals. Founder and president Rebecca McDonald will also be speaking on the main stage on the evening of Friday, August 12th. Learn more here!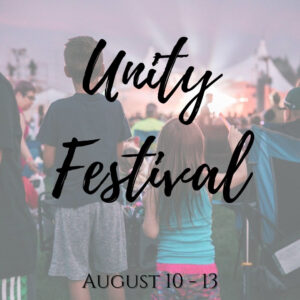 IN CASE YOU MISSED IT!
It may be August, but Christmas is still in the air! If you haven't had a chance to check out our Christmas in July Featurette, this is your moment! Browse our 'Merry Medley' of items and find a treasured gift for yourself or someone you love. By doing so, you extend the light of love to those who need it most. In shopping the work of their hands, you give survivors and those at risk a chance to heal and the opportunity earn an income with dignity!
Become a Circle of Protection