Daily Inspiration: Meet Rebecca McDonald
Author: VoyageMichigan Magazine
September 2022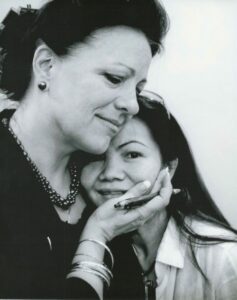 Today we'd like to introduce you to Rebecca McDonald.
Hi Rebecca, we'd love for you to start by introducing yourself.
I had the greatest privilege in the world of growing up on the Indian Subcontinent in Bangladesh and Pakistan. As a tiny child, my father, an American surgeon, took me to the golden land of Bangladesh. I attended boarding school in Pakistan. All my formative years were spent in lands steeped in Islam. My playmates were mostly Muslims but Hindu and Buddhist as well. My earliest memories are of "playing house," which meant making "curry" from our mud pies and praying on "make-believe" prayer mats.
At the age of 14, a watershed experience set me on the course of action that my life has followed ever since. My family stayed through the bitter war of independence from Pakistan. The carnage for women was especially horrific. In the poor countryside, women were property bought and sold in a marriage contract. As in all wars, property is attacked. The women were no exception.
Every day I went to my father's hospital after school to pack 300 units of relief after the war for the most destitute families. I had a helper and playmate. Her name was Neehru, and she, too was 14.
Neehru was a Muslim girl that had been thrown away at my feet by the men of her family for the crime of resisting rape. It is not common for Bengali men to rape their women, but every culture of the world has predatory men and women.
Neehru's real crime was that she fought back. To teach her she was only property with no voice and no right to fight back, they poured acid down her throat and burned her vocal cords forever. This is a frequent occurrence. The acid of Neehru's suffering burned a hole in my heart and set me on the pathway that I have been on ever since, of giving voice to the silenced cries of women and children.
My passion is to create safe places around women and children at risk wrapping arms of love around them and empowering them to rewrite the stories of their lives. Since returning to America, I have added to my efforts to open the eyes of my American sisters to the plight of women globally.
In 2006, Women at Risk International became a registered, separate 501c3 entity, even though I had been reaching out to women decades prior. Our goal at WAR, Int'l is to see captives set free; to address 14 different risk issues that prey on vulnerable men, women, and children. We are partnered with more than 171 individuals and organizations in 45 countries, and we continue to bring a voice to the voiceless through these partnerships.
WAR, Int'l now has a storefront boutique & online boutique filled with items made by rescued women from all around the world – including here in the United States through our US Training Center program in Michigan. We invite people to shop with a purpose, bringing hope and dignity to women who have suffered lives of trauma and exploitation. We want to be a circle of protection for these women.
Can you talk to us a bit about the challenges and lessons you've learned along the way? Looking back, would you say it's been easy or smooth in retrospect?
Firstly, whenever you are a founder & entrepreneur, you are learning organically, from the ground up. There's not a lot of models to look to & learn from, so you must lead with humility & a good sense of humor to be able to laugh at your mistakes, learn from them & pivot quickly. When excellence is a core value these are vital ingredients & demand a commitment to any obstacle. At the end of the day, every obstacle is an opportunity in disguise.
Women At Risk International addresses 15 risk issues; the one we're most known for is human slavery. The truth of these stories is dark, horrific, & gut-wrenching. Whenever you present those kinds of stories, it has to be done in a way that your audience, your constituency, and your circle of influence respond not with fear but with a heart of compassion that leads to action. There is a real challenge in presenting this subject with transparency while staying confidential & without eliciting disgust or anger. Those obstacles must be overcome; the goal must be to light a fire of passion to create a legacy of safe places & enlist hearts to use their time, talent & treasure to make a difference.
Secondly, the depth of brokenness & horror that the survivors we serve are subjected to demands an excellence all of its own – safety, confidentiality, trauma-informed care, persistence, & unending compassion must invade every aspect of what you do.
Lastly, when you choose to make your passion an area that is unaddressed by society as a whole, you are the tip of the spear & you will hit walls of ignorance, fear & disbelief. 30 years ago, when I began fighting this century's fastest-growing arm of crime, slavery, people didn't know what human trafficking was. Being credible & believable & yet not terrifying your constituency requires a lot of diplomacy & persistence. Today, people know what human trafficking is, so it's no longer an obstacle. However, they still think it's a foreign problem & are unaware that the greatest risk is within our own nation, to our own children. Up to 300,000 minors per year, AMERICAN citizens with constitutional rights, are at risk & few are talking about it. There's no such thing as a smooth ride when you start something that is so unknown. The good news is people really do care – overwhelmingly so – when they are exposed to such broken darkness in a way that shows that rescue & healing really can happen. When you give them practical ways to make a difference from the sanctity of their home to those they love, there's a genuine response.
Albert Einstein said, "The world will not be destroyed by those who do evil, but by those who watch them without doing anything." My experience, WAR, Int'l's experience, is that good people really want to set the captive free, be a circle of protection to those they love & bring hope & healing.
As you know, we're big fans of you and your work. For our readers who might not be as familiar, what can you tell them about what you do?
What I'm most proud of is the survivors we work with. They are the heroes of the WAR world who have been to hell and back, put their lives back together, risen up & flourish. We have graduated doctors, lawyers, engineers, nurses, mommies, teachers, goat herders, cosmetologists, counselors, bakers, candlestick makers – whatever their dream is. Seeing them go from horrific abuse to powerful individuals is what makes it all worthwhile.
What sets us apart is that we specialize in creating circles of protection around those at risk through value-added, culturally sensitive interventions. We are most known for our fight against one of the many risk issues we address, human trafficking: this century's fastest-growing arm of crime.
We train the WAR world that there are 4 core values that are unique.
First, we believe in wrap-around, holistic services. We address all the needs of our rescued survivors & operate like an umbrella, where we pull in all their needs.
Secondly, we believe in sustainability. We want our survivors & programs to create revenue streams that pay their overhead so that they are not solely dependent on donations. Ideally, donations are for growth, not for overhead. We're very intentional in helping diversify & have multiple revenue streams. We do not just rescue but help that individual dream of a future, plan a career path, & find ways to avoid being re-victimized.
Thirdly, we are passionately intentional about cultural sensitivity in all programs. What that means is that in any of our 58 countries, no 2 safehouses will look alike. They must fit the cultural value system of that nation, that people group, in order to be effective & long-lasting.
Finally, we believe that anti-trafficking & addressing risks to marginalized people is timely. This generation, globally, is born with a social justice gene in their DNA. Like never before, when this generation gets into positions of leadership, they are going to address the social ills about them. This gives us great hope for the future.
What do you think about happiness?
There is no joy like seeing a man, woman, or child rescued, restored, & empowered to walk in worth & dignity. Even greater is the luxury of hindsight. We can look back on decades of work & see generational change. When grandparents, parents, & children are all united in an effort to end the risks that plagued their family, environment, and world & are then restored together, that is systemic change. On a personal level, when a survivor finds their voice after being silenced, my joy is boundless. My passion is to help them find their voice, whether it be professionally, physically, emotionally, artistically, musically, in their own way, at their own pace, or in their own time. Longfellow said that the voice is the organ to the soul. Till there's no breath left in my body, I will use my voice to bring survivors to a place of hope & healing & empower them to find their own voices.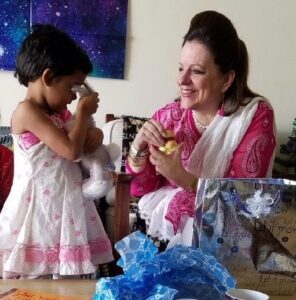 Become a Circle of Protection