WRAP Week (Oct 28-Nov4)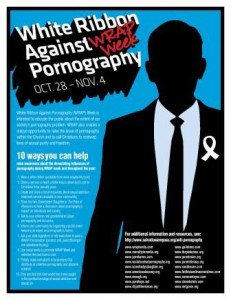 The proven notion that porn harms drives the annual White Ribbon Against Porn Campaign.  The 25th annual WRAP Week starts Sunday, October 28th with the intention to educate and raise awareness to the public about the extent of our culture's pornography problem. WRAP week began in 1987 when a single woman, Norma Norris, sought to inform the public about the gravity and effects of the pornography problem in everyday life. She decided on a white ribbon to represent purity against darkness and gathered her many church members to take action about pornography in her community and beyond. Many studies have been done showing that not only does porn affect the user, it can ruin marriages, families and careers. Unbeknownst to a lot of people pornography is also often connected to sex trafficking and the Salvation Army's Initiative Against Sexual Trafficking (IAST) is using WRAP week as an opportunity to not only raise awareness to those in the community, but also to give those who may be struggling a chance to seek help.
Will you join hundreds of other groups and thousands of citizens around the country to raise awareness about the flood-tide of pornography pouring into our nation's communities, homes, and children's minds? Participate this week and pledge to take action against pornography throughout the year!
Click here for 10 Ways to Help (PDF)
Become a Circle of Protection