The Lost Children of Yolanda
Philippines, December 2013 –  The destructive power of Typhoon Haiyan,  nicknamed "Yolanda" by those in the Philippines, not only took the lives of over 10,000 but, left behind a sea of homeless families and orphaned children. These survivors are confronted with the challenges of finding food, water, and shelter, often unaware of a hidden enemy prowling the devastation and debris.  In the wake of nearly every natural disaster, human trafficking agents prey upon orphans and desperate families, often before many relief organizations get boots on the ground to provide basic needs.
Reverend Ron Davidson, president of Gleaning for the World, experienced this first-hand during a disaster relief trip to Sri Lanka. He observed human traffickers quietly and repeatedly approaching homeless families, offering to buy their first born children for large sums of money. Horrified, he watched parents struggle between letting their entire family die, or selling one child. Orphans were given the choice of slow starvation or the promise of food and shelter from a pedophile or trafficking agent. Gleaning for the World had disaster relief supplies in the Philippines within a week of the typhoon, but for some children and families it might have been too late.
Father Shay Cullen has been a missionary in the Philippines since 1969, working directly with the victims of child sexual exploitation. In an interview with the Vatican News Network, he speaks of the "jackals" that prowl the islands, particularly after natural disasters. He states, "Under the pretext of saving or taking care of children, traffickers kidnap them and sell them to pedophiles.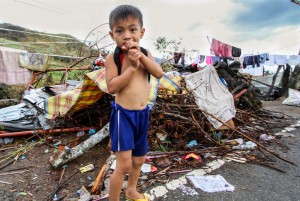 Or they earn large sums of money by providing the children for illegal adoptions. Even worse, they introduce them into the world of prostitution, making them slaves of sexual exploitation."
Fortunately, in the wake of the recent typhoon, the Philippine government has taken a proactive stance against this tragic, world-wide trend. The Department of Social Welfare and Development sent an urgent message to all relief organizations entering the country to search out and report any trafficking activity.  Father Cullen claims that history will remember this wave of trafficked children as "the lost children of Yolanda."
"Threads of Hope," a Philippines-based partner of Women at Risk, Int'l, has been connecting impoverished Filipino people with home business opportunities for over ten years. The founders, Alex and Chris Kuhlow, also observed first hand children forced into tragic situations out of their families' desperation. Their ministry works alongside families in establishing business partnerships.Now, over 250 families have been lifted from poverty by crafting friendship bracelets sold around the world and at all WAR, Int'l boutiques and home parties. These parents can maintain a steady income, protect their families, and even send their children to school.
Currently, "Threads" is offering an opportunity for supporters to help the victims of Typhoon Haiyan, as well as these Filipino families. Right now, half of the proceeds from bracelet sales goes toward the artisans and the other half goes toward victims of the typhoon.  Please visit the WAR, Int'l web store to support those in the Philippines. A small purchase may be the means to prevent an at-risk family or typhoon survivor from becoming prey for the "jackals" roaming their land.
Become a Circle of Protection