Our President's Response to the Nigerian Kidnappings
Let Our Whispers Be a Roar!
Unfortunately, this kidnapping of girls for forced marriage or "slaves" is not uncommon. The scale of the attack is what is uncommon. Three hundred girls were kidnapped by a radical Islamic group, Boko Haram, Which means "Education is Forbidden." Haram is the Arabic and religious word for "forbidden." The name is their mission. God forbid that a woman should think, read, or walk in public free and at will.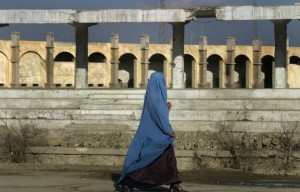 As an American being raised in the Islamic countryside of then East Pakistan, I knew my girlfriends were at risk of many things. One of my playmates was kidnapped by a Muslim boy who wanted a "pure" bride but didn't want the dowry and long, extended negotiating that marriages required. Because he was Muslim and she was Christian—and it is illegal for one faith to marry another—kidnapping meant the "desired bride" would be forced to convert to her captor's faith. Another friend was threatened with an acid attacked when she resisted the advances of a surly teen that wanted her. Just the threat of such an attack meant the girl (not the boy) was at fault. Society would ostracize her having attracted such attention. One Christmas, my partner, the brother of the Christian girl kidnapped and forced into Islamic marriage, wrote me devastated. His beautiful Christian daughter was being threatened with an acid attack by an unwanted Muslim suitor. WAR, Int'l wired money immediately to remove her from her home village and send her to live with her aunt in another city. After a year, she was able to return. The boy had lost interest, probably moving on to someone else.
Last year I visited a Muslim college graduate that was forcibly kidnapped from her dorm by a Muslim wanna-be suitor. He took her to a magistrate to force her into marriage. When she objected loudly, he stabbed her and threw acid on her face. If he couldn't have her, he wanted no other man to want her forever. As she lay in the ICU at a government hospital, the newspapers went crazy. What was amazing is that this sort of attack is fairly common. But finally the culture that tolerates attack and blames the victim…stood up. Now that the uproar has died down, everyone has forgotten my little "Ankhi," and she wears the most severe of Muslim veils to hide her melted eye, nose, ear and half her face. I am trying desperately to get her a pro-bono hospital in America. We have already gotten the promise of a prominent plastic surgeon here in Grand Rapids to do a pro-bono surgery to try to give her her face back. Our Christian partners in Egypt face the same risk of kidnapping. They started a summer camp that trains girls how to avoid the risk of attack. You can click here and read more about this program.
In Afghanistan today, 38 schools for girls built by American soldiers have been burned to the ground by the Taliban, an extremist group that also denies women the right to read and write. Boys on bikes have been known to carry squirt guns filled with acid, aiming for the eyes of a girl walking to school. She must not read. She must not have eyes. Since her eyes are all that shows, this is a logical place to attack. A girl in Pakistan is shot in the head by the Taliban as she walks to school. Today she is living in England and her face is known to us all.
What I want people to know is that this is not universal in Islam. Mohammed's wife was more educated than he was. He was illiterate; she was a business woman. There are many wonderful Muslim fathers that encourage their daughters to learn. But the reality is that in a culture that is controlled by fear of the radical element, they may turn a blind eye when a girl is at risk or attacked. At a conference in London with speakers such as Queen Noor (Syria), the UN, ambassadors, and several Nobel Laureates, a Pakistani lawyer and Nobel Laureate made this statement, "Pakistan has the best laws in the world to protect women. It did us no good when the Taliban shot a child in the head for going to school. Laws are not enough."
In 1963, President Kennedy said about another evil, "The rights of every man are diminished when the rights of one man (or woman or child) are threatened . . . Those who do nothing are inviting shame, as well as violence. Those who act boldly are recognizing right, as well as reality."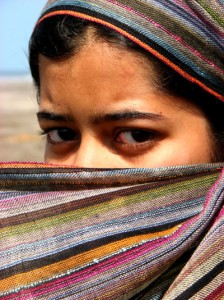 My passion is for us to act boldly. We must speak up for the silenced woman. We must exclaim loudly for the 300 girls that have gone missing who now have no voice. These are girls from an elite school that once had dreams of being doctors, teachers, mothers, leaders. Now they are enslaved, married off to men or boys that believe reading is a crime and kidnap at gun point. As President Kennedy said, "We cannot be quieted by token moves." If we do nothing, we invite shame. If we do little, it will only be a token move. We must let this horror translate into action. I believe this mentality is a "clear and present danger", an imminent threat to our circles of influence. I am calling to each reader, each "warrior" to rise up and help us be a voice, help set these new captives free.
It may be that you sit and pray. It may be that you write a letter to your senator urging them to put diplomatic pressure on one of the most corrupt nations in the world (according to the authorities that study corruption and fight for anti-corruption). It may be that you choose to support a girl attending purity camp. It may be that you know a hospital that would offer surgery to "Ankhi" to give her her face and future back. Perhaps you would help me step into her life on the day that we bring her to this land to get surgery. It may be that you would help me pay for her ticket to come here. If you want to join the fight to help women and children avoid the risks of their environments, read "How to Get Involved" on our website. Join our growing army!
In the animal kingdom, if the male lion does not roar at nightfall to claim that his pride is under his protection, 2-3 female lionesses can roar together to send the message. Unite with us to send the message to the predators, "Our children are under our protection. We will be their voice. We will not be silenced. For every attack, we will respond. For every silenced voice, we will find those men and women that will roar together to raise our cubs and those of the world. Will you join your voice with us and remove the searing acid that destroys and maims our children, our dignity, our nation and our global family?
Let our whispers be a roar!
Becky McDonald
President, Women At Risk, Int'l
Become a Circle of Protection