Looking for creative ways to donate? Have unused craft items lying around the house? Want to teach your kids about helping others? Here are a few innovative ways that you can help us help others.
Scrapbook Paper
For the past twenty years, ethnic discrimination, bitter wars, and constant political instability have torn the country of Kosovo apart. Devastated families, widows, and orphans now seek to recover from the loss permeating their lives. Kosovo Widows was founded by an American widow with a vision to bring healing and wholeness to these people. This program employs widows crocheting doilies, which WAR Int'l uses to create greeting cards. You can help by donating scrapbook paper to set off our Kosovo partner's doily designs. The paper needs to be at least 4 inch by 6 inch in elegant or seasonal patterns.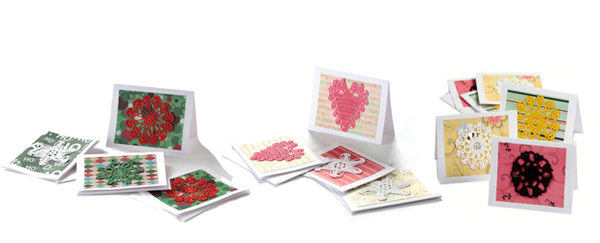 Safety Pins and Seed Beads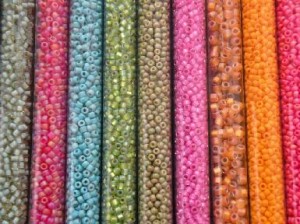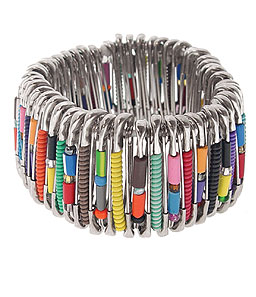 The Zulu tribe is currently the largest tribe in South Africa and is known for their beadwork and basket making. On Becky McDonald's (WAR Int'l president) recent travels to South Africa, she was inspired by their impressive beadwork. While buying the more complex designs from the crafters in South Africa, WAR Int'l is currently training some of the women in their domestic training center to create some simpler designs. We need donations of safety pins, sizes 0–3 (7/8 inch to 2 inches), and seed beads (all colors) to help the women in our domestic training center support themselves.

Fabric Scraps
Our domestic training center is a place of refuge for rescued women in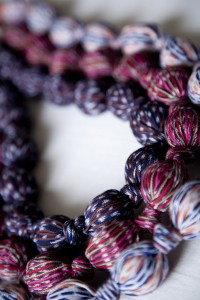 the United States. They come from a variety of backgrounds, but need a steady job as they heal, get their feet back on the ground, or look for other employment. Here, they find meaning as they create and repair jewelry. One of the crafts that these women make is beautiful, cloth-covered bracelets. We are looking for donations of 6-inch-by-12-inch or larger fabric scraps of pliable, non-transparent fabrics so we can continue to be a force of restoration in these women's lives.
Happy Meal Toys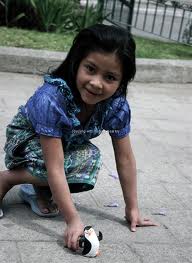 When Becky visited a partnering orphanage overseas, she asked the children what they receive for Christmas. Their eyes lit up as they told Becky that they each receive one piece of candy. When Becky realized how much the children appreciated a simple piece of candy, she knew we could double their excitement with a small toy. We now collect happy meal toys for them and other orphans. We depleted our stock during our last trip, so we are looking for unopened happy meal toys to distribute on our next trip in February. This is a great way to encourage your kids to give—challenge them to give up their happy meal toys this summer to needy children around the world!
For questions about how you can creatively donate please contact info@warinternational.org
All donations can be sent to WAR, Int'l 2790 44th St SW, Wyoming, MI 49519.
Become a Circle of Protection