Reports from our partners in Texas, Florida, and the Caribbean
By: Darius Hall, Intern
and Bethany Winkel, Senior Staff Writer
With several partners in areas affected by the recent hurricanes, Women At Risk, International (WAR, Int'l) is keeping a close watch on the news. Hurricane Maria, which began pounding the Caribbean as we prepared this article for press, has narrowly bypassed our partners in that region. In the meantime, we have been gathering information from several of our partners who have weathered through Hurricanes Irma and Harvey.
Hurricane Harvey
Considered a Category 4 hurricane, Harvey decimated southeast Texas with winds topping out at around 100 miles per hour. Unforeseen record-breaking flood waters topping out at almost seven feet were witnessed throughout southern Texas. Advised by officials not to evacuate, much of the southeastern Texas population suffered through possibly the worst hurricane the area has faced since Hurricane Carla in the 1960s.
Though located directly in the path of Harvey's havoc, our safehouse partner in Texas fared relatively well, despite the rest of their region being significantly dismantled.  The staff, residents, and animals were all reported safe, and the staff and occupants worked tirelessly to calm and assist others in the community. However, two women in the safehouse's outreach program have lost everything in the flooding, and many other families the safehouse assists have also been affected by Harvey. WAR, Int'l is helping to raise funds for them, and they wish for our continued prayers as they attempt to adjust to this tragedy.
Hurricane Irma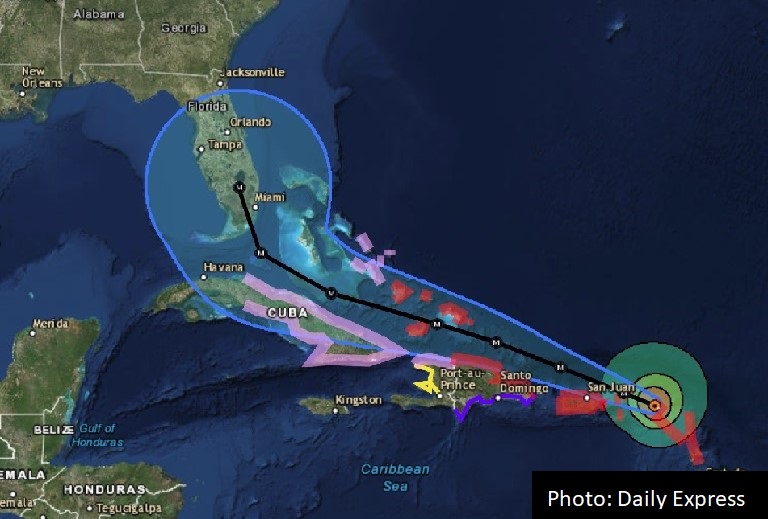 Harvey had barely dissipated when Hurricane Irma made landfall. With wind gusts covering over 70,000 square miles, a diameter of almost 300 miles, and speeds peaking at about 185 miles per hour, Hurricane Irma wreaked devastation in the Caribbean as well as the southern part of the United States. Impacted states include Florida, Georgia, Alabama, the Carolinas, and even Tennessee. Millions went for days without power, homes have been completely destroyed, and flood waters defile the streets, making transportation and adequate living nearly impossible.
In light of the damage and destruction Irma left behind, WAR, Int'l was concerned for several partners, both stateside and abroad, who are located within the path of the hurricane.
A Report from Our Florida Partner
While Irma itself was projected to become a Category 4 hurricane by the time it touched down in Florida, our outreach partner fared relatively well, noting that by the time Irma had reached them, it had diminished to a Category 2 hurricane. The organization was well prepared and took early precautions, which included boarding up their windows, securely fastening down outside amenities, and turning a garage into a makeshift stable for their animals. While Hurricane Irma seemed to significantly demolish much of coastal Florida, our outreach partner reported that they had no property damage and that all the occupants and animals were unharmed.
Irma's Impact in the Caribbean
With the brunt of Irma's force hitting the Caribbean Islands, WAR, Int'l was particularly concerned for the neighboring nations of Haiti and the Dominican Republic, where we have several partners.
Haiti was impacted less significantly than many other areas. However, the hurricane has brought many other issues upon this nation. Our partners in Haiti indicated that the flooding and mudslides were a very real threat that could damage the infrastructure of their already frail and weak nation. The flooding caused by Irma within Haiti has the potential of overtaking roadways, which will make travel and rescue efforts very difficult. Mudslides as well are a very serious concern for Haiti, since much of its agriculture has been decimated over the years due to the many major natural disasters that Haiti has endured.
In addition to dealing with the fallout from Hurricane Irma, there is also much civil unrest going on within the nation. Protests have turned into violent riots where vehicles are being set on fire, local businesses and shops are being plundered, and authorities are using tear gas as a means to subdue the violent protestors.
The Dominican Republic was one of the countries receiving the fullest extent of Irma's wrath within the Caribbean. Our partners reported rather severe damage now plaguing the area, including flooding that is about 3 feet high. This, in turn, is making travel on the streets an almost impossible task. In areas where the raging waters have subdued, debris and refuse litter the streets, leaving a terrible reminder of the wrath of perhaps the most detrimental storm to ever come out of the Atlantic coastal region.
Updates from Our Caribbean Partners
The good news is that, as far as we know, our partners in these areas were spared any loss or injury. Our partnering safehouse in Haiti suffered only minimal damage from the initial wind gusts. They reported that all of their staff, women, and families were safe and all facilities were fully intact. Our Haitian microenterprise partner likewise reported no loss. In the Dominican Republic, our education partners were prepared with supplies and a plan for providing refuge to affected families. However, Irma moved to the north, sparing them from damage. We have not received updates from our partnering Dominican safehouses, but we trust that no news is good news. Meanwhile, our Caribbean partners have been spared the wrath of Hurricane Maria, and for that, we are very grateful.
How You Can Help
In spite of all the turmoil and tumultuous times facing those abroad and stateside, there are many ways to be proactive and assist those who need help. Here at WAR, Int'l, we make it a priority to lend a helping hand for those who find themselves in unfortunate circumstances and situations. Because of this, we have set up an emergency "Rescue 911 Fund" so that, even on short notice, we can come to the aid of our partners and those they serve. This includes assistance with disaster relief and efforts. Keeping these people in prayer is also a helpful way to show caring and hope (Philippians 2:3-4).  It is important that we come together in difficult times to support each other in the best way possible.