We've come a long way in three years. Finally the nation is growing aware of the problem  of human trafficking within our borders. In 2011 only 11 states had the basic legal framework outlined by the Polaris Project to adequately protect victims and prosecute traffickers.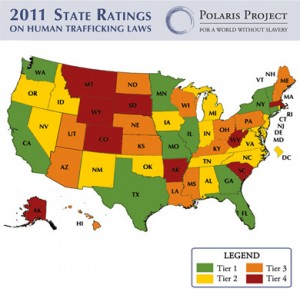 This framework includes laws that make specific provisions for labor and sex exploitation, law enforcement training, the forfeiture of assets acquired by traffickers, victim assistance, access to civil damages, lower burden of proof for the sex trafficking of minors, etc. Now in 2013, 32 states hold the top tier ranking, scoring 7 points or higher within the 12 points of the categories required. Washington and New Jersey were the first states to ever score a perfect 12, covering every single aspect of the laws, as laid out by the Polaris Project, to sufficiently begin to tackle the epidemic of human trafficking.
Yet, even with so many improvements, children are still being exploited daily.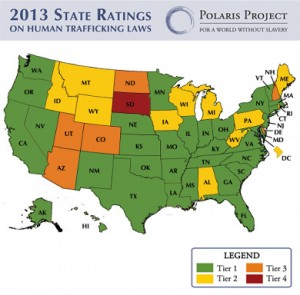 In a recent nation-wide FBI raid, 105 minors were rescued from child sex trafficking and 150 alleged pimps were arrested. Detroit alone had 10 rescued children and 18 arrests. Even in light of this positive achievement, many victims of trafficking under 18 can still be prosecuted for prostitution as the laws of 32 states are currently written. However, there is a viable solution to this problem. Safe Harbor laws would protect children from being prosecuted for prostitution as well as ensuring the proper aftercare and healing that should come with rescue, not punishment. Teens on the streets have been pushed there by many circumstances; locking them up only serves to reinforce fear and mistrust of the very agencies that should be protecting them.
The year 2013 has brought many improvements to the laws of individual states, but there is always more work to be done. Protecting children should start at home. As parents, teachers, coaches, etc., we must learn to be safe places where kids can go to seek refuge in their lives. Traffickers exploit the perceptions and feelings of children. We must instill worth and value in our youth before exploitation, disguised as love and acceptance, finds them.
Become a Circle of Protection