6th Annual Int'l Weekend of Prayer & Fasting
In His word, God calls us to regularly pray and fast. While we tend to embrace the first discipline, it is the second one that can seem a bit more intimidating. Common misunderstandings concerning fasting only add to this sense of intimidation, particularly when the practice becomes nothing more than a way to "appease God so He will do what we want." Yet fasting is a practice that turns us from the physical reality in which we dwell, and ushers us more fully into the unseen spiritual reality around us. Whether or not you have fasted before, we invite you to join us in a weekend of prayer and fasting from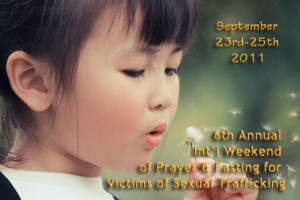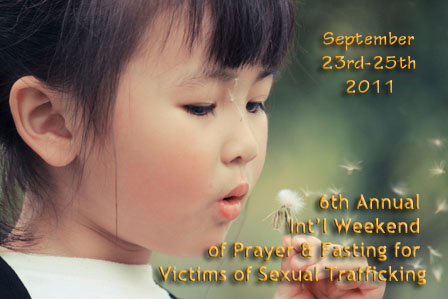 September 23-25 for the thousands of women and children trafficked around the world.
Sometimes the best fuel to ignite the soul with is the inspiring story of another's experience. Consider Hannah. Although afflicted with a barren womb in a land where infertility was a source or ridicule and humiliation, Hannah's story in the book of Samuel shows us a woman seeking God's face in the closet of prayer. Rising above the crushing circumstances of her day, she fell at the feet of her God for strength and power in her journey. Hannah could have looked at the hopelessness of her situation and resigned to simply accept it as "the way things are," but she didn't. She prayed. She prayed so intently that the priest Eli thought she was drunk and sent her home. Once home, Hannah ended her fast and soon became pregnant. Her prayers were answered, and in her thankfulness she dedicated her son Samuel to the Lord.
If you are a mother or have any desire to be a mother someday, you can probably relate to the story of Hannah. You can understand the desperation she felt, and likewise, taste a bit of the joy she experienced when God answered her prayer. The love of a Mother is an extraordinary thing, and it can drive us to do incredible things. Like fasting from all food. Like praying so intently we appear drunk. Will you join us? Will you fight with a mother's heart for the children of God around the world? Will you cry out for the children separated from their loving mothers at a young age—tricked into a life they could have never imagined? Will you pray on the behalf of little ones sold out of desperation by the very women who were supposed to fight for them? We ask you to pray for these children. We ask you to fast. This powerful combination has the ability to free God's children from the shackles of slavery and take down walls of darkness. It has the ability to change the world.
To help you get started or to learn more about the spiritual disciplines of fasting and prayer, check out the Salvation Army's Fasting Fact Sheet.
JOIN US THROUGH OUR WEEKEND WORKBOOK!
Email Jennifer Roberts at:  jr@warinternational.org
for your copy.
Become a Circle of Protection