WRAP (White Ribbon Against Pornography) Week
October 30th – November 6th 2011
The 24th annual White Ribbon Against Pornography (WRAP) Week starts Sunday, October 30th with the intention to educate and raise awareness to the public about the extent of our culture's pornography problem. WRAP week began in 1987 when a single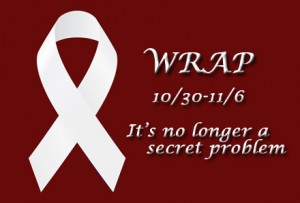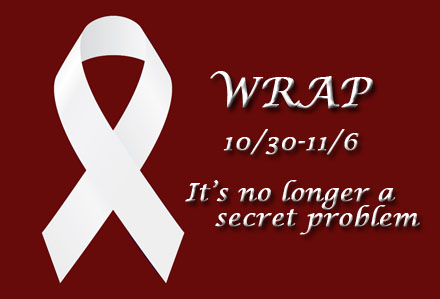 woman, Norma Norris, sought to inform the public about the gravity and effects of the pornography problem in everyday life. The Salvation Army has since launched the Initiative Against Sexual Trafficking (IAST) in 2001 to help mobilize and equip the modern anti-sex trafficking movement. As a part of their IAST effort, The Salvation Army is using WRAP week as an opportunity to not only raise awareness to those in the community, but also to give those who may be struggling a chance to seek help.
Pornography is not only a constant problem in our community; it is also a growing one. In 2006, the worldwide revenue for pornography was 97.06 billion dollars. With numerous forms of technology literally at our fingertips, it is not surprising that the modern pornography problem transcends all ages, races and different groups of people. In fact, Statistics show that 47% of Christians claim that pornography is a problem in their home. WRAP week is a wonderful way to begin bringing the awareness that is needed year-round to help stop pornography.
10 ways you can help raise awareness about the devastating influences of pornography during WRAP week and throughout the year:
1) Wear a white ribbon (available from www.wrapfamily.com)
2) Express concerns about Internet obscenity at the www.ObscenityCrimes.org tipline.
3) Ask your pastor or other religious leader to address the pornography problem in your church and in your community.
4) Express concerns to businesses that distribute or advertise pornography
5) Express concerns to you U.S. Attorney and State prosecutor
6) Write letters to the editor of your local newspaper about the pornography problem and its solutions
7) Inform your community by distributing literature, having a speaker or organizing a workshop
8) Educate your community leaders about the harmful effects of pornography
9) Ask city, county, and state legislators to curb "sexually oriented businesses"
10) Join the movement to pray and fast that God would free those caught in the spiritual bondage of sexual addiction and sexual sin.
With your passion, prayer and with the help of God, we will be able to fight the battle against pornography, one ribbon at a time.
Dare to reach out your hand into the darkness,
to pull another hand into the light.
-Norman B. Rice
Statistic Sources:
www.moralityinmedia.org
Become a Circle of Protection