WARrior Spotlight: Karin Nelson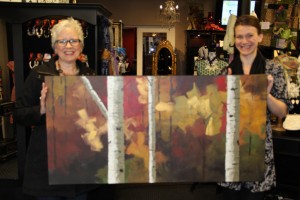 In 2010, Karin Nelson quit her desk job to pursue her passion. Requests for her artwork had been increasing, and she was ready to take the plunge and paint full time. It was not long before her new career took off. Karin's work has since been featured in Art Prize, The Grand Rapids Celebration of the Arts, Michigan Regional Art Exhibition, and she won the 2014 Tulip Time Poster Contest in Holland, MI. You can find her paintings on display at Treeline Gallery in Suttons Bay, MI as well as Canterbury Cottage in Holland, MI.
Karin is a faithful supporter of WAR who is passionate about freedom for women and children at risk. With her new career, she has found a powerful, creative way to invest in the lives of women and children all over the world. Karin has given the proceeds from two of her paintings to WAR, Int'l—with her second piece auctioning for 400 dollars!
We at WAR, Int'l are honored and excited to put this gift toward the work of rescue and empowerment. And we want to empower you to use your own skills and passions as well. Every person presents a new opportunity, a new way to help lift wounded lives to dignity. WAR knows the power of a painting. We know the significance of stuffing envelopes and weeding flowerbeds. With every person who gives their time, talent, or treasure, women at risk across the street and around the world reap the benefits.
Become a Circle of Protection