The Scarlet Cord and Beyond: Looking back at ArtPrize Outreach
It started with simple bars of soap. On an early September morning over 150 WAR, Int'l and GVSU volunteers gathered to package thousands of soaps, distributing them to over 100 hotels, 6 strip clubs, and several bars. With the human trafficking hotline number emblazoned on the label, this simple donation acted as a circle of protection and hope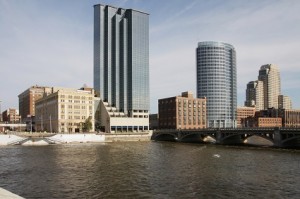 around those exploited in the Grand Rapids area.
We chose to call the community to action, to create this unique circle of protection, because our beloved city was preparing to welcome over 400,000 visitors for ArtPrize 2014. This massive and exciting event draws not only talented artists and passionate community members, but also the eye of the predator. According to law enforcement, large events like PGA tours, NFL games, and political campaigns encourage traffickers to bring in young women, sold for a quick profit. We love our city. We love ArtPrize. So WAR, int'l is determined to protect it.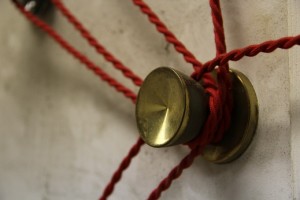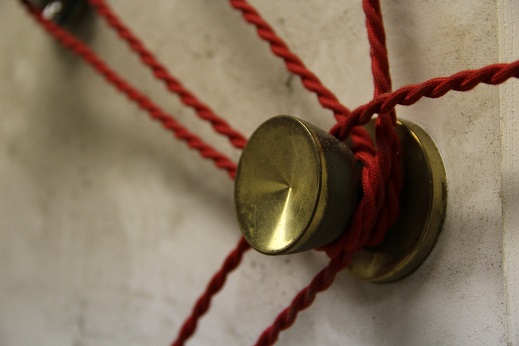 With this same passion and purpose in mind, artist Pamela Alderman partnered with Women At Risk, International to create an ArtPrize installment that would awaken us to the local reality of human trafficking. The Scarlet Cord told the story of children, tangled within the trauma of sexual exploitation. For three weeks, thousands of ArtPrize visitors flooded The Scarlet Cord, passing through the massive storage container to take in the tragic story.
Many of you joined us at The Scarlet Cord, sharing your time, passion, stories, and tears. 30,000 people walked away with red cord bracelets, empowered to take action within their circles of influence.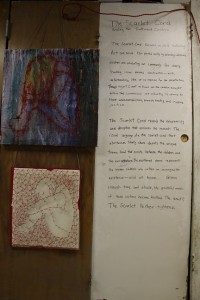 Our city's response continues to amaze us. We are surrounded by a community of people who see a hidden evil and are now choosing to take action against it.
"Now I know and there is something I can do…"
A retired police officer said, "We never had training about sex trafficking while I was on the force. After viewing The Scarlet Cord, I stayed up late researching sex trafficking."
A local doctor sent his personal assistant to The Scarlet Cord to get more information on sex trafficking.
"I appreciate that your art speaks to people; it's not just entertainment."
While receiving a bracelet one man said, "I won't
even watch professional football anymore because of players' violence against women and children."
One tearful visitor said, "I have a heart to help young children who have been abused. It is really terrible what some children experience."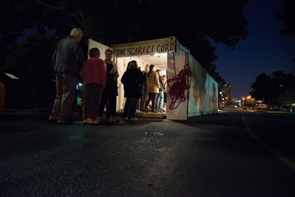 "This exhibit is killing me," one woman said, "but I had to come back."
"Thank you for all those who can't say 'thank you."'
"I cannot say ENOUGH GOOD ABOUT MY EXPERIENCE."
Join us in our mission to rescue, restore, and empower at-risk women and children. Take this opportunity to get involved. You make it possible to provide women and children with places of safety, dignity, and hope
Become a Circle of Protection