Looking towards summer, most people find themselves giddy with anticipation over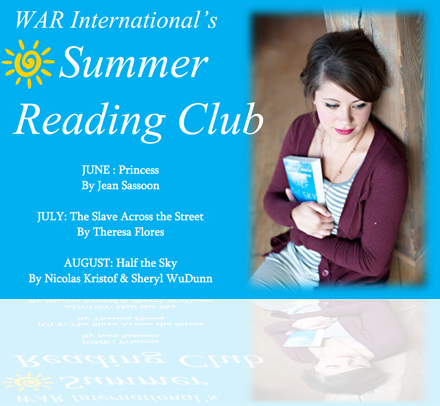 VACATION. Long trips in the car, warm days on the beach, hiking through the forest, fishing on the lake, or maybe, even barbequing in the backyard are among the adventures that await. Summer is a time we slow down and give ourselves a breather. What better breather than to read for a purpose! WAR, Int'l wants to offer you another way to be involved! We are going big this summer with our first ever Summer
Reading Club. You won't want to miss this exciting opportunity to read some of anti-trafficking's most influential works, talk to field experts, and watch yourself grow! Here at WAR, Int'l, we firmly believe that an informed community is an empowered community. That is why we are dedicated to equipping individuals to fight the human trafficking epidemic surrounding us. Whether you only read one, two, or all three, we know these books will change your life—they have certainly changed ours. So get ready!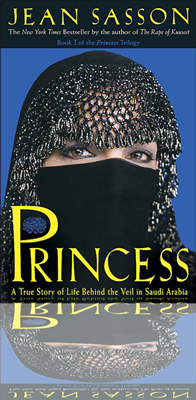 June 28th, we will be kicking things off with Jean Sasson's Princess: A True Story of Life behind the Veil in Saudi Arabia. Since its publication in 1992, this New York Times Bestseller has been opening the eyes of many to the hidden world of Saudi women. One of the first books to speak on the subject, Princess sounded a fervent cry for awareness and change—a cry that still sounds just as strong and clear today as it did two decades ago. In her typical riveting fashion, Sasson draws readers into the world of Saudi Arabia, addressing the injustices of a male-dominated culture, life behind the veil, and female suppression.
Sasson's own interest in the liberation of Saudi women started while working at the King Faisal Specialist Hospital and Research Centre. While there, Sasson's personal interaction with the Saudi community grew, eventually culminating in her close friendship with Saudi Arabian Princess Sultana. While most of the world lay sleeping, these two women formed a dynamic duo, daring to voice the unspeakable. Although the Saudi culture is becoming less shrouded, this book still stands as one of the most important works on Saudi women's subjugation. Its insight is sure to prove helpful.
Many authors fearfully shy away from such a heavy topic as Sasson's, making her own willingness to tackle it all the more valiant. With her combined style and grace, even the most hesitant readers will find themselves drawn in to the very end. Unlike the captivity of Saudi's veiled women, this book encourages readers to look beyond themselves, reach out to their sisters around the world, and declare their worth. Special guests Rebecca McDonald, president and founder of WAR, Int'l, will lead the
group along with the author, Jean Sasson, who will be joining us by phone.
Please join us!
You can Sign up via Facebook
Summer Reading Club discusses Princess
Thursday, June 28 at 6:30 pm
Wyoming WAR Chest Boutique
2790 44th Street SW
Coming up for July and August
The Slave Across the Street (July)
Become a Circle of Protection