Girls Left Behind – Part One
Bangladesh, May 2013– Fueled by the promise of an education, a group of Christian girls made a grueling trip from the mountains to Bangladesh's capital. Shock and disbelief replaced eagerness when they realized that "recruiting team" who had come to their remote village were actually human trafficking agents. The girls were delivered to a training center but not to receive the education they had dreamed of. According to International Christian Concern (ICC), "the girls were made to wear veils at all times, forced to work as slaves, forcefully sent to hotels for sex trade and only fed one time a day." The dream of a quality education led these innocent girls into a tragic situation.
In 2002, in the United States, the "No Child Left Behind Act" was signed into law. Its goal was to provide all children in America a "fair, equal and significant opportunity to gain a high-quality education," according to the U.S. Department of Education. Even prior to this law, K-12 education has been equally available to boys and girls for many decades and with billions of dollars of federal and state funding. When comparing the educational opportunities for American girls to young women and girls in Bangladesh, the contrast is quite sharp. While educators and lawmakers in the U.S. have been going to extraordinary lengths for the past 40 years to ensure gender equality in education, Bangladeshi policymakers have only recently endorsed the concept of empowering women through education. Fabiha Naumi, the assistant director for student affairs at the Asian University for Women in Bangladesh, states that the educational challenges for all students include inflexibility, insufficient number of schools, and poverty. The United Nations Girl's Initiative confirms this and mentions additional barriers between quality education and Bangladeshi girls such as hostile school environments, a shortage of quality female teachers, inadequate school materials, great distances to schools, and probably most significantly, the perceptions of lesser value and limited roles for girls in general. Many little girls and their dreams of a better life are left behind in Bangladesh.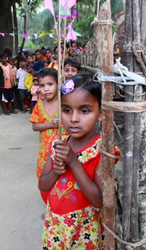 In one courageous school planted in the heart of rural Bangladesh, educational dreams are coming true for many children and especially for girls. WAR Int'l proudly partners with this school and has dug a well and supplied 30 new benches for girls enrolled in the culinary classes. Clean drinking water and a place to sit and learn, off the ground, are just two ways that girls are shown they have value and dignity. Furthermore, it is the goal of WAR to provide support for specially chosen students in need, particularly those with physical handicaps. These students will not be easy prey to predators who roam rural villages enticing the innocent and uneducated with lies. The paths of their young lives are being permanently altered by acquiring skills and knowledge that will enable them to find future employment. Above all, WAR offers consistent prayer support for the students and staff alike that they would find the power of their God-given destinies through knowing Christ as Savior.
Become a Circle of Protection