March for Freedom This 4th of July:
Summer fun is in full swing with vacations, picnics, beach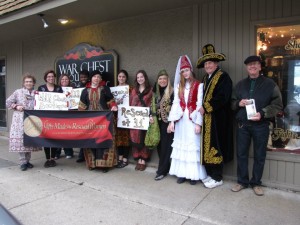 days and backyard barbeques. How about adding a Freedom March to your local 4th of July
Fourth of July activites bring new opportunities for our supporters to creatively spread the word on the ministry of WAR, International. Recently volunteers representing the 31 countries that WAR Int'l partner's with played dress-up in a local parade while holding signs representing real lives rescued in our programs; "Ping, Age 14 – Thailand," Sajani, Age 7 – Nepal." They were passionately shouting the names of those rescued and being a voice for those who are still in captivity.
WAR Friends saw a need to build awareness in their local community, and met that need by marching for freedom and shouting the name of WAR from the streets. Will you do the same? As the 4th of July quickly approaches with dozens of parades to take part in, march for the freedom of those still in bondage this summer. Will you initiate a "Freedom March" in your own city, neighborhood, or street this upcoming Independence Day?
Reaching for the Phone to learn more? Here are some ideas:
1. Talk to your city about a parade entry
2. Find volunteers willing to help
3. Contact us: Tricia DeKorne or Jessica Rowland at 616-855-0796.
4. Receive materials from WAR:
  Stories from rescued women to share with your marchers
  Sign ideas
  Literature to hand-out during the parade
5. WAR will feature pictures of Freedom Marches hosted on our Facebook Page to inspire others (make sure you have someone take pictures)
If you have other creative ideas about how to raise awareness in your community, please contact Tricia DeKorne, td@warinternational.org.
We thank you for your servant hearts to set the captives free and be a voice for the voiceless.
FOR FREEDOM, WE MARCH ON.
Summer Parade 2013 (Rockford, MI)
Thank you to all volunteers who walked in honor of the precious lives WAR Int'l strives to rescue, redeem, restore, and empower.
Become a Circle of Protection