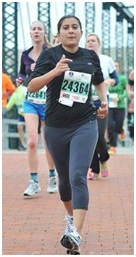 We all have a driving force that motivates us, pushing us forward. For Bimala Shrestha Pokharel, that force was running. Passionate for the speed and freedom, Bimala followed in the footsteps of her father, who was one of the fastest runners in the Nepalese military. As a teen she would wake early and rouse and motivate the other children to run on the military bases she grew up on. This passion carried her all the way to her college experience here in the United States. But when she developed severe knee pain, it seemed she might have to forgo her love of running. Doctors told her she had water under her knee and could no longer race; Bimala was devastated. It took five years to build her confidence in running back up and eventually led her to the Chicago Marathon on behalf of Calvin College. With hard work and determination Bimala continues to run to this day sharing her passion for the clarity running provides.
But running is not the only driving passion in Bimala's life. Bimala met her husband, also from Nepal, here in the United States and together the two of them set out to help those in their native land that society had forgotten.

In addition to being a pastors wife, and loving mother of two children, Bimala's heart longed to serve the at risk women of Nepal. Thus, Higher Ground Cafe was born. Bimala seeks to employ women who have no other options of support for their families and would be very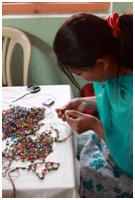 vulnerable to the trafficking problem that plagues Nepal. Higher Ground started as a small café, but rapidly grew to include beautiful hand decorated cakes and then lovely crafts and jewelry, made by these precious women. Now employing 22 women and a few men, the café is a great success story of what love can do to heal. However, just like her love of running, Bimala is always striving to go further. She offers micro-loans of goats to rural women, elevating their status in their families and communities through this miraculously simple program. She also dreams of opening a training center that would provide employment skills for even more at-risk individuals.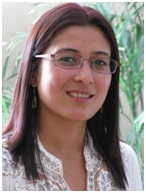 Bimala's enterprises employ women who have, for any number of reasons, few to no options for supporting their families. Lack of education, or skills, and ingrained gender discrimination have left many women on the brink of poverty and devastation. Many desperate women turn to the streets, feeling that this is the only way to earn an income, but at what cost? Bimala feels deeply for these women and reaches out to the red light districts, bars, and strip clubs, offering hope and a new life. She is passionate about preventing trafficking among Nepalese women and girls as well as providing a safe and restorative place for survivors. This type of holistic care involves the nurturing of families, and Bimala now offers jobs and support to the men in the lives of these women, helping families heal together.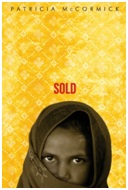 Women At Risk, International (WAR, Int'l) has invited Bimala to return to Grand Rapids at the end of July to discuss the book Sold by Patricia McCormick, and share about her ministry. Sold tells the story of a young girl from Nepal sold into sexual slavery in India. In addition to addressing the worldwide problem of sex trafficking, the book illustrates some of the risk factors of sex trafficking and brings the issues in the book alive. Told through the eyes of a 13-year-old, the book is appropriate for mature teens and adults. Bimala will also share more about how her ministry is working to provide solutions to these problems. Join WAR, Int'l Thursday, July 25 from 6:30–8:30pm at their headquarters in Wyoming, MI to discuss Sold and the issue of sex trafficking.
Become a Circle of Protection